Hier findet ihr die Playlists zu den verschiedenen Endlosbändern.
Diese laufen immer, wenn laut Programm keine Sendung läuft.
Immer um 22 Uhr erfolgt der Wechsel und ihr hört das Endlosband des nächsten Tages.
Anregungen, Fragen und Kritik an
endlosband@radio-rum.de
Montag
Jingle/RUM
Tango Transit – Suite Part 1
Regina Spektor – Fidelity
DAF – Mein Herz macht Bum
Karls Enkel – Oma Amler
Massive Attack – Be Thankful For What You've Got
RUM/Claim
Gaukler – Bootsfahrt
David Leask – Between Him & Me
Jingle/Sportsendung
Juckreiz – FKK
Die Art – Das Schiff
Jingle/RUM
Tim Bendzko – Nur noch kurz die Welt retten
The Vaccines – Post Break Up Sex
Jingle/RUMchecken
AG Geige – Fischleim
BOY – This is the beginning
Manfred Krug – Sonntag
RUM/Jingle
Franke Tate – O Grand Amor
Wilhelm Tell Me – Julie
Benny Sings – Big Brown Eyes
Harry "Sweets" Edision – Wave
RUM/Jingle immer noch
Regine Doberschütz – Solo Sunny
Zaz – J'ai deux amours
Alabama Shakes – You Aint Alone
Regina Spektor – Better//last update 2020 Apr, vacant n.n.
Dienstag
Jingle
Caribou – Never Come Back (Radio Edit)
Adel Tawil – Zuhause
Bobby Rausch – My third journey through a dark land (Original)
Ava Max – Torn
Britney Spears – …Baby One More Time
Tina Turner – Whats Love Got to Do with It
Lukid – Fall Apart
Mad EP – I'm Undone
Photek – Modus Operandi
Jingle
Shackleton – Naked
The Doubtful Guest – Tubby
wAgAwAgA – Cloudchop
Destroyer – Crimson Tide
Linkin Park – Numb
Juju feat. Henning May – Vermissen
James Blunt – Postcards
Alanis Morisette – Guardian
Jingle
Lykke Li – I Follow Rivers (The Magician Remix)
Lana Del Rey – Summertime Sadness
U2 – Walk On
Mad'House – Like A Prayer
Shakira – Whenever, Wherever
Andreas Bourani – Nur in meinem Kopf
Sunrise Avenue – Hollywood Hills
Jingle
George Ezra – Shotgun
Vengaboys – Up & Down
Hallux feat. Marcus – Ai Se Eu Te Pego
Bingo Players – Rattle
Ascii Disko – Black Acid
Modern Talking – TV Makes The Superstar
Jermaine Jackson & Pia Zadora – When The Rains Begins To Fall
Foster The People – Pumped Up Kicks
Manuel Wiegran Project – New Skin
Jingle
Lounge Music by Paulo Arruda

Mittwoch
Jingle
Kilians – Fight The Start
Bilderbuch – Bungalow
Ratatat – Wildcat
Portugal. The Man – Work All Day
Chet Faker – No Diggity
The Notwist – Gravity
Mando Diao – Sweet Wet Dreams
Jingle
The Clash – Rock The Casbah
The Notwist – Where In This World
Chet Faker – I'm Into You
The Kooks – Naive
The Whitest Boy Alive – Inflation
RHCP – Havana Affair
Jingle
The Knife – Pass This On
Mando Diao – If I don't have you
Metronomy – The Bay
The Notwist – Consequence
Chilly Gonzales – Knight Moves
Red Hot Chili Peppers – Save the Population
Jingle
The Streets – On the Edge of a Cliff
John Frusciante – Murderers
RJD2 – Ghostwriter
Chilly Gonzales – Green Leaves
Arcade Fire – Reflektor
Bilderbuch – I <3 Stress
The Clash – Rock the Casbah
Red Hot Chili Peppers – The Zephyr Song
Jingle
Gonzales – Overnight
Trentemoller – Miss You
Mentronomy – On Dancefloors
Bilderbuch – Plansch
Mando Diao – Child
Desire – Under your Spell
Jingle
The Fugees – Ready or not
Pixies – Where is my Mind
Mando Diao – Make you Mine
Justince vs Simian – Never Be Alone
Kavinsky – Nightcall
Bilderbuch – Willkommen im Dschungel
CARIBOU – Can't Do Without You
Jingle
Moderat – Eating Hooks
Nora En Pure – Norma Jean
Vario – Falling In Love
Storm Queen – Look Right Through
Moderat – Running
Stephan Bodzin – Singularity
Moderat – Rusty Nails
Jingle
Moderat – Reminder
Tale of Us – Another Earth
Alle Farben – Metaphsik der Röhren
Oliver Koletzki – U-Bahn
Donnerstag
LoopTape von Mittwoch auf Donnerstag
Von: U901 Uboot Unerhørt
Fund: am 6.1.2021 angespült am Lahnufer
Restauration des Bandes: auf der Heizung trocknen
Titel auf dem Etikett: Løøptøpe4
Einstufung des Fundes:
Ein neues am Lahnufer angespültes Lebenszeichen von U901. Der Präser, in dem das Tape verpackt war, wurde notdürftig mit Tesafilm geflickt, einige Lieder sind nass geworden und mussten erst auf der Heizung getrocknet werden.
Diesmal haben sie auch ein Zappelbild mitgeschickt.
ABC-Auflistung der Tracks (Abspielreihenfolge unterliegt dem Zufall):
Alexander Fish – Submariner
Banco de Gaia – Starstation Earth
Sigurd Barret – Flip Flop Fliep Flap
Beatles – Yellow Submarine in Pepperland
Briareus fest. Lisa Rein – Submarine
Nick Cave & The Bad Seeds – Blind Lemon Jefferson
Clown Core – Earth
Dawggonedavis feat. Chago G Williams – Darkest Hour
The Discoghosts – Jellyfish
Dom Flemons – Field Holler
Fresh Familee – Solar 2000
Ganz Schoen Feist – Wie geht's 'n
Greta – Ardent Spring
hike – cry in the dunes
hikE – resonate auf der heizung
Inbetween Movies – Lava
JLA – Cellostück
Käptn Peng und die Tentakel von Delphi – U-Boot
Marc-Uwe Kling – Hobby
Jonny König – Stoiber on Drums
Land of Ooo – Waiting for the Whales
Lina and Gwen Wayne – Laber Rhababer
DJ Madd – Trenchtown Techno
Malcolm McLaren and The Bootzilla Orchestra – Call a Wave
Rudi Merten – Mir geht es so schlecht
The Metafiction Cabaret – Swans of Utopia
Mitski – Come Into The Water
Moderat – Nasty Silence
Moon Hooch – This Is Water
Neander – Eremit
Nelson Dilation – Sitar War
The Notwist – Ship
Mike Oldfield – The Chamber/Hibernaculum
Ookla the Mok – The Other Side (2011 thefump.org)
Rheingold – Fluss
Michael Rother – Karussell
Silhouette Tales – Fly And Dive
Surprise Chef – Crayfish Caper
Tab Two – We are T.T.T.
Talk Talk – Wealth
The Temper Trap – Trembling Hands instrumental
Travellin Light – The Dream
U901 – Folgen 9, 13, 21 und das Minihörspiel "Uboot Unerhørt öffnet eine Dose"
Warmduscher – Whale City
Wolke – Ich geh jetzt tauchen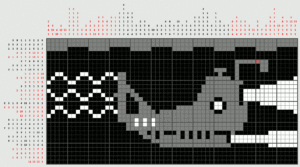 Freitag
Yoko Ishida – Open Your Mind
The Carpenters – Top Of The World
EB-Sender verstellt
Il était une fois… Les Découvreurs – Générique
Astérix et Cléopatre: Le gâteau empoisonné
Timon & Pumba – Hakuna Matata (französisch)
EB Ganz kurz
Cake – Short Skirt Long Jacket
Drake Bell – I Found a Way
Deep Blue Something – Breakfast at Tiffany's
EB Endlose Weiten
Anno 1701 Soundtrack – Maine Theme
Die Zauberflöte – Die Hölle Rache kocht in meinem Herzen
Jingle Podcast
Portal 2 Soundtrack – Sience is Fun
The Champs – Tequila
Jingle Immernoch
Trailer Mitmachen
Hannes Wader – Trotz alledem
Billy Bragg – The Internationale
Ich Troje – Keine Grenzen
DONOVAN – The Universal Soldier
EB Sender verstellt
Monty Python- What have the Romans ever done for us
Leonard Nimoy – Highly Illogical
Die Ärzte – Ein Sommer nur für mich
Vera Lynn – We'll Meet Again
Jingle Farbradio
Linus and Lucy – Peanuts Theme Song
Leroy Anderson – The Typewriter
Walter Murphy – A Fifth of Beethoven
Jingle
Fettes Brot & Friends – Fußball ist immer noch wichtig
Jingle
Audrey Hepburn – Moon River
The Beatles – When I'm 64
Louis Armstrong – What A Wonderful World
Zahlensender Unerhört
Dumb Ways to Die
Das Krokodil und sein Nilpferd – Grau Grau Grau
Badesalz – Kaffeemaschien'
Elektrozaun
Die Prinzen – Mein Fahrrad
Die Doofen – Jesus
Bahnsteig
Andrea Bocelli – Un nuovo giorno
Karel Svoboda – Wickie (Endtitel)
Samstag
Coves – Cast a Shadow
Empire Of The Sun – High and Low
MarieMarie – A Beatiful Life
Mark Foster – Lion
Kettcar – Benzin und Kartoffelchips
Starsailor – Listen to Your Heart
The Godfathers – A Big Bad Beautiful Noise
Zitronen Püppies – Ans Meer Fahrn
Yoshiyuki Ota – Goodbye
Christina Lux – Close to the Tide
Sonntag
Sarpa Salpa – She Never Lies
Matt Healy (The 1975) – 102
Ben Howard – The Wolves
Fil Bo Riva – Franzis
Two Feet – I feel like I'm drowning
Ultimate Painting – Ultimate Painting
Fink – Looking Too Closely
Metronomy – The Bay
Milky Chance feat. Paulina Eisenberg – Unkown Song
Angus and Julia Stone – Big Jet Plane
Pink Martini – Let's Never Stop Falling In Love
Angus and Julia Stone – Chateau
Twin Bandit & Joshua Hyslop – Stolen Dance (Milky Chance Cover)
Bon Iver – Holocene
Bon Iver – Blindsided
Bon Iver – Flume
Gabrielle Aplin – Home
Edward Sharpe & The Magnetic Zeros – Home
Fleetwood Mac – Dreams
Fleetwood Mac – Rihannon
Vance Joy – Riptide
Lorde – Liability
Lorde – The Louvre
Maggie Rogers – Alaska
Lewis Capaldi – Bruises
Jack Johnson – The 3 R's
Prinz Pi – Laura
Paramore – Hallelujah
Lonestar – Walking in Mamphis
Moderat – New Error
Marshmello feat Khalid – Silence
Clueso – Chicago
Kodaline – Brand New Day
Freya Ridings – Lost Without You
Colt Silvers – 2 Hearts