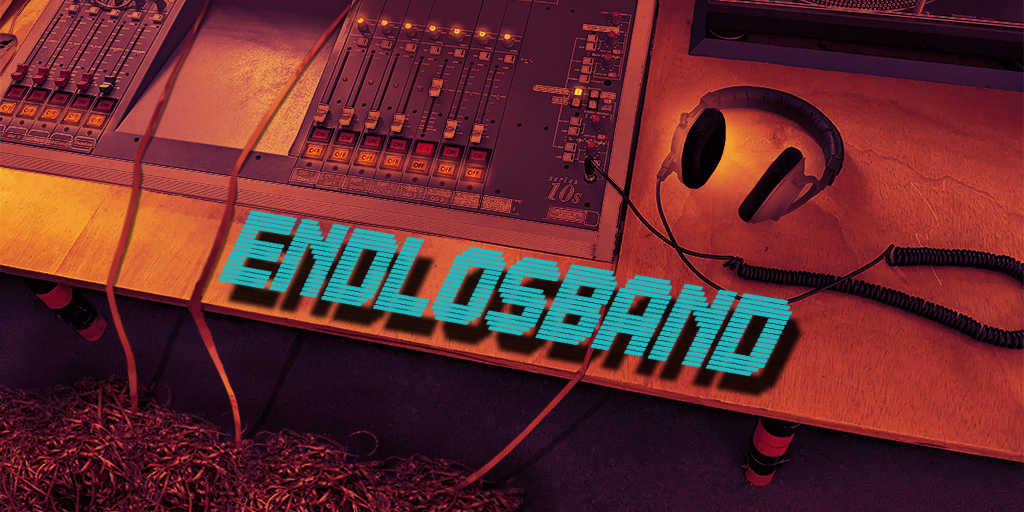 Hier findet ihr die Playlists zu den verschiedenen Endlosbändern.
Diese laufen immer, wenn laut Programm keine Sendung läuft.
Immer um 22 Uhr erfolgt der Wechsel und ihr hört das Endlosband des nächsten Tages.
Anregungen, Fragen und Kritik an
endlosband@radio-rum.de
Montag
ABC-Auflistung der Tracks (Abspielreihenfolge unterliegt dem Zufall):
3 Doors Down – When I'm gone
ABBA – S.O.S
ABBA – Dancing Queen
Annett Louisan – Dings
Annett Louisan – Das Spiel
Ava Vegas – Swimming Pool
Baz:uka – Allein hier
Bazu:ka – raus auf's Meer
Bibi Club – La nuit
Bibi Club – Parasite
Bobby Fletcher & Koljah – Alles soll dunkel sein
boy pablo – Be Mine
Built to Spill – Fool's Gold
CHAI – "HERO JOURNEY feat. Superorganism
Charlie Hickey – "Choir Song (I Feel Dumb) 2.0
Culcha Candela – Somma im Kiez
Chulcha Candela – Steh auf
Claudia Balla – in my head
Coldplay fest. Merry Clayton – Adventure of a lifetime
Die Ärzte – Männer sind Schweine
Die Fantastischen Vier – Sommerregen
Dame – Wäscheleine
Danger Mouse & Black Thought – Aquamarine (feat. Michael Kiwanuka)
Dead Star Talk – Do it now (somehow)
DJ Antoine – Welcome to St. Tropez
Dumbo Tracks – Bordstein in der Nacht (feat. Julian Knoth)
Einsneunzig – Bidde Bidde
Einsneunzig – Tanz so lang du kannst
Evou – anxious bitch
Flimboy – headlights
Flimboy – Just like this
Flimboy – tiny hands
George Hennessey – Lost Society
Give me remedy – house of gosts
ImpäcT – Mama don't like Rock'n'Roll
Jiska – Girl next door
Jonas Brannath – Stay
Kraftklub – (Fahr mit mir (4×4) feat. Tokio Hotel
Lindsay Waddington – Black North Queensland
Low Island – Can't forget
Magnus Ernst – sugar candy hill
Marlon Williams – River Rival
Mile & Flip – Somebody else (feat. Fas.awn)
Muff Potter – Hammerschläge /Hinterköpfe
MYLLER – lass dich nicht mehr ran
MYLLER – 10/10
Oskar Haag – The summer we need
Pistols at dawn – Fly
Rathmann – Cocktailbars und Chardonnay
Razz – Red and blue
Rosa – Tautropfen
Rosa – Bitte ohne Hass
The five Stairsteps – O-O-H Child
The Flims – make me wanne
The Flims – try
Sarahmee – Elle est partie (feat. Nissa Seych)
Sin Davis – Fliege hoch vs. falle tief
last update 2022 Juni
Dienstag
Jingle
Mölltallica – Mölltallica sind wieder da
Moti & Captain Jack & Gerson Rafael – Loco Loco (Radio Edit)
Shouse & David Guetta – Love Tonight (David Guetta Remix Edit)
Räuber – Denn wenn et Trömmelsche jeht
Huey Lewis & The News – Hip To Be Square
Ed Sheeran – Bad Habits
Phil Hanro – Home
Madonna – Hung Up
Monrose – Shame
David Bowie – Something In The Air
Jingle
Blue – All Rise
Overground – Schick Mir 'Nen Engel
OneRepublic – Run
Overground – Der letzte Stern
DSDS – We Have A Dream
Erasure – Secrets
Füllmusik
Erasure – Nerves of Steel (Andy Bell & Gareth Jones Sapphire & Steel Mix)
Black – Wonderful Life
Celine Dion – My Heart Will Go On
Bijan Mortazavi – Eshveh
Karat – Ueber sieben Brücken musst du gehn
Jingle
Norman Keil – KOLOSSAL (Radio Edit)
The Wayf – So Close
Herbert Grönemeyer – Bochum
a-ha – The Living Daylights
Chromatics – Tick Of The Clock
Bosse – Schönste Zeit
Füllmusik
Pet Shop Boys – Suburbia
Bananarama – Cruel Summer
Sunrise Avenue – I Don't Dance
Shouse – Love Tonight
The Communards – So Cold The Night
Robin Schulz & Felix Jaehn – One More Time feat. Alida
Pascal Letoublon – Friendships (Lost My Love) feat. Leony
Michael Patrick Kelly – Throwback
Daniel Merriweather – Change (feat. Wale)
Jingle
Secret Service – Ye-Si-Ca
Thompson Twins – Hold Me Now
Steve Winwood – Higher Love
Animotion – I Engineer
Paso Doble – Computerliebe
Herbert Grönemeyer – Alkohol
The Weather Girls – It's Raining Men
Jingle
Herbert Grönemeyer – Mambo
George Michael & Aretha Franklin – I Knew You Were Waiting (For Me)
Tina Turner – Two People
Bruce Springsteen – Cover Me
Jingle
Robbie Nevil – Cest La Vie
Marvin Gaye – Sexual Healing
Bronski Beat – Hit That Perfect Beat
Black – Everythings Coming Up Roses
Rick Astley – Whenever You Need Somebody
Füllmusik

Mittwoch
Jingle
Kilians – Fight The Start
Bilderbuch – Bungalow
Ratatat – Wildcat
Portugal. The Man – Work All Day
Chet Faker – No Diggity
The Notwist – Gravity
Mando Diao – Sweet Wet Dreams
Jingle
The Clash – Rock The Casbah
The Notwist – Where In This World
Chet Faker – I'm Into You
The Kooks – Naive
The Whitest Boy Alive – Inflation
RHCP – Havana Affair
Jingle
The Knife – Pass This On
Mando Diao – If I don't have you
Metronomy – The Bay
The Notwist – Consequence
Chilly Gonzales – Knight Moves
Red Hot Chili Peppers – Save the Population
Jingle
The Streets – On the Edge of a Cliff
John Frusciante – Murderers
RJD2 – Ghostwriter
Chilly Gonzales – Green Leaves
Arcade Fire – Reflektor
Bilderbuch – I <3 Stress
The Clash – Rock the Casbah
Red Hot Chili Peppers – The Zephyr Song
Jingle
Gonzales – Overnight
Trentemoller – Miss You
Mentronomy – On Dancefloors
Bilderbuch – Plansch
Mando Diao – Child
Desire – Under your Spell
Jingle
The Fugees – Ready or not
Pixies – Where is my Mind
Mando Diao – Make you Mine
Justince vs Simian – Never Be Alone
Kavinsky – Nightcall
Bilderbuch – Willkommen im Dschungel
CARIBOU – Can't Do Without You
Jingle
Moderat – Eating Hooks
Nora En Pure – Norma Jean
Vario – Falling In Love
Storm Queen – Look Right Through
Moderat – Running
Stephan Bodzin – Singularity
Moderat – Rusty Nails
Jingle
Moderat – Reminder
Tale of Us – Another Earth
Alle Farben – Metaphsik der Röhren
Oliver Koletzki – U-Bahn
Donnerstag
LoopTape von Mittwoch auf Donnerstag
Von:
U901 Uboot Unerhørt
Fund:
am 3.1.2023
Titel auf dem Etikett:
Looptape Best Of
15 LoopTapes sind seit Anfang Juli 2020 aus der Lahn aufgetaucht, um sich in den Äther zu schwingen. Zweieinhalb Jahre lang hat uns das Uboot alle zwei Monate neue Musik hochgeschickt. Mittlerweile scheint da unten in der Tieflahn der Schlick ausgiebig durchwühlt zu sein, denn heute kam ein Best-Of Mixtape an den Marburger Lahnstrand; es lag auch ein Brief bei, in dem steht:
"Ohrwürmer funktionieren am besten, wenn [wesen] sie auch wiederholt. Sagt Tape Ahab, aber er formulierte das etwas drastischer und lötete dabei einen Wasserrehschädel auf eine Platine (warum auch immer; ich glaube es ging irgendwie um Kunst, er hat demnächst eine Ausstellung bei den Videorecordern). Unsere Bioformen an Bord lassen alle Marburger Ratten, Bären, Chamäleons und Katzen grüßen, Tape Ahab lässt alle Cassettenrecorder weltweit grüßen, und ich grüße alle Erdnussflipsfabrikanten und Besitzer von Erdnussanglerfischplantagen (in der Hoffnung auf materielle Zurück-Grüße, diese bitte bei der Brücke am Hauptbahnhof in die Lahn werfen oder senden an Starving Kraken, 0815 4711, Packstation "Zur Bassfalle", 35037 Marburg). – Zweite Sache, unser Forschungsbericht, äh Logbuch, ist mittlerweile irgendwo online, ich mein unter rattencomics.wordpress.com. Ist auch eine Seite drin freigelassen, wo Ihr euer eigenes Uboot malen könnt. Die selbstgemalten Bilder könnt Ihr mir auch schicken, an uboot@radio-rum.de, dann wird damit an Bord eine Ausstellung gemacht. Kpt'n Mischa B. Kraken.
P.S. Die anderen gucken komisch, weil ich so viel schreibe. Ich werf das jetzt mal in den Hummi-Express.
P.S. 2 Ich hab zu Hummi gesagt: "Schick das bloß nicht ab", und deswegen weiß ich, dass das pünktlich oben ankommen wird."
ABC-Auflistung der Tracks (Abspielreihenfolge unterliegt dem Zufall):
85 Decibel Monks – Breeze And 85 [LT11] Antilopengang – Unterseeboot [LT11] Auditive Escape – Yurtifale [LT11] Banco de Gaia – Starstation Earth [LT04] B-Men – Who inspires me [LT15] Boogie Belgique – Drop Out [LT08] Charlotte Brandi – WIND Master [LT11] Chinese Man Scratch Bandits Crew Baja Frequencia – Not So Samba [LT02] CV Vision – 1 The U [LT06] Lydia Daher vs Ornah-Mental- Die Zeit steht still im Club of Dub [LT07] Riccardo Eberspacher – Light Signs [LT08] Flock of Dimes – Price of Blue [LT05] Cory Gray – Doctor [LT02] Hanzel and Gretyl – Dementia Solaris [LT07] Hidden Orchestra – East London Street (shortened) [LT01] DJ Highlanders – Amaltea [LT01] Jah Seal – Intergalactic Detective Agency [LT03] Jam and Spoon – Odyssey to Anyoona [LT 10(09)] KIDSØ – Youth (BYLJA Remix) [LT05] Kula Shaker – Tattva [LT05] Michel Macias – smoke on the water [LT 10(09)] Julian Maier-Hauff -Forest For Rest- Pappelrappel [LT02] Meute – Peace [LT11] Mihaillness – Higher [LT01] Mueholos – Mambo No 25 [LT08] Ocker – Gang Of 4 [LT03] Hans Reichel -Yuxo- A Life without Lychees l [LT07] Klaus Schulze – SQ2 (extended mix) [LT08] Sharktank – Bad Energy [LT11] Sille – Was fuer es Laebe [LT06] Slixs-querBach acapella- – Quer Bach- Concerto for Oboe & Violin in D Minor, BWV 1060 Adagio [LT08] The Sweeps – Return Original Mix [LT11] The Temper Trap – Trembling Hands instrumental [LT04] Underground Circus – Something (Water Mix) [LT11] Woods Of Birnam – The Wind [LT11] LT-bestof-Trailer
Freitag
Yoko Ishida – Open Your Mind
The Carpenters – Top Of The World
EB-Sender verstellt
Il était une fois… Les Découvreurs – Générique
Astérix et Cléopatre: Le gâteau empoisonné
Timon & Pumba – Hakuna Matata (französisch)
EB Ganz kurz
Cake – Short Skirt Long Jacket
Drake Bell – I Found a Way
Deep Blue Something – Breakfast at Tiffany's
EB Endlose Weiten
Anno 1701 Soundtrack – Maine Theme
Die Zauberflöte – Die Hölle Rache kocht in meinem Herzen
Jingle Podcast
Portal 2 Soundtrack – Sience is Fun
The Champs – Tequila
Jingle Immernoch
Trailer Mitmachen
Hannes Wader – Trotz alledem
Billy Bragg – The Internationale
Ich Troje – Keine Grenzen
DONOVAN – The Universal Soldier
EB Sender verstellt
Monty Python- What have the Romans ever done for us
Leonard Nimoy – Highly Illogical
Die Ärzte – Ein Sommer nur für mich
Vera Lynn – We'll Meet Again
Jingle Farbradio
Linus and Lucy – Peanuts Theme Song
Leroy Anderson – The Typewriter
Walter Murphy – A Fifth of Beethoven
Jingle
Fettes Brot & Friends – Fußball ist immer noch wichtig
Jingle
Audrey Hepburn – Moon River
The Beatles – When I'm 64
Louis Armstrong – What A Wonderful World
Zahlensender Unerhört
Dumb Ways to Die
Das Krokodil und sein Nilpferd – Grau Grau Grau
Badesalz – Kaffeemaschien'
Elektrozaun
Die Prinzen – Mein Fahrrad
Die Doofen – Jesus
Bahnsteig
Andrea Bocelli – Un nuovo giorno
Karel Svoboda – Wickie (Endtitel)
Samstag
Coves – Cast a Shadow
Empire Of The Sun – High and Low
MarieMarie – A Beatiful Life
Mark Foster – Lion
Kettcar – Benzin und Kartoffelchips
Starsailor – Listen to Your Heart
The Godfathers – A Big Bad Beautiful Noise
Zitronen Püppies – Ans Meer Fahrn
Yoshiyuki Ota – Goodbye
Christina Lux – Close to the Tide
Sonntag
Sarpa Salpa – She Never Lies
Matt Healy (The 1975) – 102
Ben Howard – The Wolves
Fil Bo Riva – Franzis
Two Feet – I feel like I'm drowning
Ultimate Painting – Ultimate Painting
Fink – Looking Too Closely
Metronomy – The Bay
Milky Chance feat. Paulina Eisenberg – Unkown Song
Angus and Julia Stone – Big Jet Plane
Pink Martini – Let's Never Stop Falling In Love
Angus and Julia Stone – Chateau
Twin Bandit & Joshua Hyslop – Stolen Dance (Milky Chance Cover)
Bon Iver – Holocene
Bon Iver – Blindsided
Bon Iver – Flume
Gabrielle Aplin – Home
Edward Sharpe & The Magnetic Zeros – Home
Fleetwood Mac – Dreams
Fleetwood Mac – Rihannon
Vance Joy – Riptide
Lorde – Liability
Lorde – The Louvre
Maggie Rogers – Alaska
Lewis Capaldi – Bruises
Jack Johnson – The 3 R's
Prinz Pi – Laura
Paramore – Hallelujah
Lonestar – Walking in Mamphis
Moderat – New Error
Marshmello feat Khalid – Silence
Clueso – Chicago
Kodaline – Brand New Day
Freya Ridings – Lost Without You
Colt Silvers – 2 Hearts