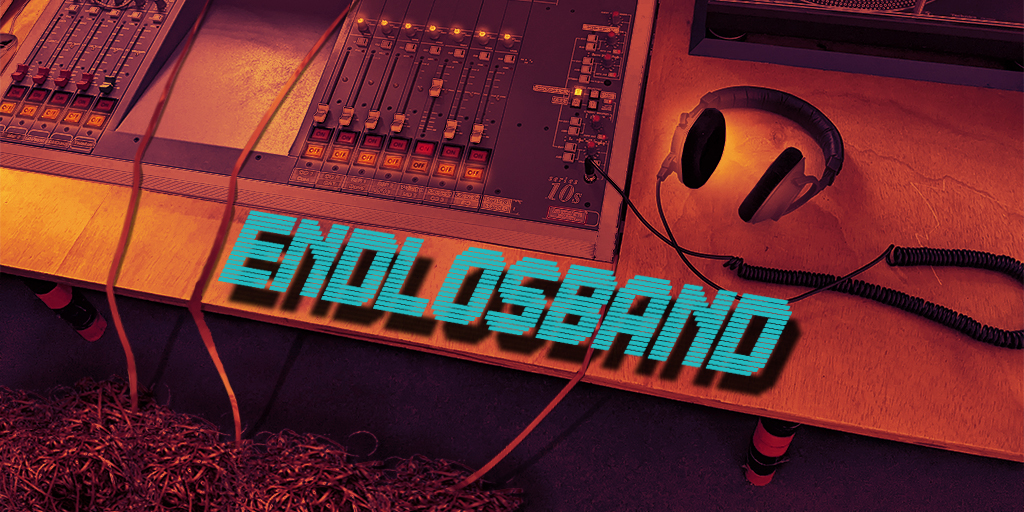 Hier findet ihr die Playlists zu den verschiedenen Endlosbändern.
Diese laufen immer, wenn laut Programm keine Sendung läuft.
Anregungen, Fragen und Kritik an:
Montag
New Order – Waiting For The Sirens' Call
Chimère FM – Chimère FM
Olivier Orand – Breathe
Naomie Klaus – Can You Tell Me What Is Micronet?
Golden Bug – Fata Morgana
Max Raabe & Palast Orchester – Kuessen Kann Man Nicht Alleine
Krypton 81 – Kalter Planet
Dire Straits – Brothers In Arms
Juergen Von Der Lippe – Lars Vom Mars
Fehlfarben – Ein Jahr (Es Geht Voran)
New Order – Turn The Heater On
London Symphony Orchestra – Merano
Paul Simon – Graceland
Vangelis – Titles
Santa Esmeralda – Learning The Game (Epilogue)
Jonzun Crew – Space Is The Place
Passport – Loco-Motive
Anderson Bruford Wakeman Howe – Quartet
Jon & Vangelis – State Of Independence
Ideal – Sex In Der Wueste
Joachim Witt – Goldener Reiter
Mike Batt – No Lights In My Eyes & Love Makes You Crazy (Instrumental Reprise)
Yello – Dialectrical Kid
Carl Oesterhelt – The Gong Of Revolt
Andrea Parker – The Rocking Chair
Acud – Orthopaede
Andreas Dorau – Die Menschen Sind Kalt (R. Zenker Rmx)
Mathias Schaffhaeuser – Hey Little Girl (Extended Blue Mix)
Intelligenz – Isoliert
Louie Austen – Amore (I Love You)
Yello – Tool Of Love
Lassigue Bendthaus – Jealous Guy
New Order – Leave Me Alone
Ideal – Eiszeit
16 Bit – (Ina) Gadda-Da-Vida
Laid Back – Bakerman
Roxy Music – More Than This
Abba – Don't Shut Me Down
Golden Bug – Tokoyo No Kuni feat. Vega Voga
Tetzlaff – Eins (Strasse)
Hollie Kenniff – Embers
Dienstag
Derzeit wird dieses Endlosband überarbeitet.
Mittwoch
Blues Company – Blues Go Away
Axel Prahl – Bla Bla Bla
Reinhard Mey – Nein meine Söhne gebe ich nicht
Otto – Im Frühtau zu Berge
Pink Floyd – Money
Regina Spektor – Aprés Moi
Samanda Fish – Highways´holding me mow
Rio Reiser – Der Traum ist aus (live)
Die Ärzte – Friedenspanzer
Bob Dylan – Masters Of War
Gerhard Polt- Der Bunker
Franz Josef Degenhardt – Befragung eines Kriegsdienstverweigeres
Flatsch – Dicke Diktatoren
Black Sabbath – War Pigs
Willie Dixon – Study War No More
CCR – Graveyard Train
Deep Purple – April
Doors – Spanish Caravan
ELP – Fanfare Of The Common Man
JJ Cale & Eric Clapton – After Midnight (live)
Gabor Szabo – Gypsy
Georg Danzer – Frieden
Gerhard Polt – Vom Krieg
Ina Deter – Neue Männer brauch das Land
Janis Joplin – Move Over
Jethro Tull – Bouree
John Lennon –138. Working Glass Hero
Katja Ebstein – Am Grunde der Moldau
Trampled Under Food – Bad Bad Feeling
Udo Lindenberg – Mijn eerste grote Liefde
Joy Fleming – Neckarbrückenblues
Schwoissfuass – Kopf in Arsch von Mannesmann
Santana – Tales Of Kilimanjaro
So Kalmary – Pessa
Spliff – Jet Set Star
Stanley Clark – Justic´s Groove
Donnerstag
LoopTape Donnerstag
Von: U901 Uboot Unerhørt
Fund: am 3.12.202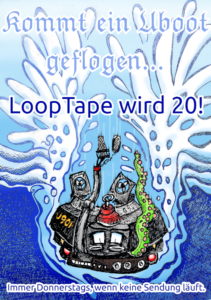 Was gibt's Neues in der Lahn? Einen Vogel-der-woche.de Podcast, zum Beispiel, der es endlich auch mit Sonar-Geschwindigkeit bis in die Unterhaltungsschaltzentrale von U901 hinein geschafft hat und das Boot jeden Montag um 5 Uhr früh für ein paar Minuten zum Wackeln bringt. (Logisch sind da auch Wasservögel bei, ansonsten wär das gar nicht im Uboot angekommen.)
Außerdem neue und alte Musik, wie üblich mit 33 rpm gerührt, nicht geschüttelt.
Tape Ahab hat die Nasen seiner_ihrer Haustorpedos weihnachtskugelich angemalt, und Kalamari hat ihre_seine Einstiegsluke zur Bommelmütze gemacht; glücklicherweise hat keine der beiden Blechpersönlichkeiten sich einen wallenden Lamettabart wachsen lassen, denn ansonsten stünde zu befürchten, dass die sich in der Tieflahn verheddern und nie wieder mit einem neuen LoopTape auftauchen werden.
U901 begrüßt hiermit auch das digitale Studio A, welches ab dem 23. Oktober von einigen unbremsbaren Ehren- und Hauptamtlichen innerhalb einer Woche auf Sendefähigkeit hochgezogen wurde und nun noch weiteres Feintuning und Ergänzungen bekommt. Definitiv Respekt vor der Teamleistung; der analoge Broadcastmischer-Opa von Studio A – mit 230.000 Sendestunden auf dem Tacho – hat bereits eine neue Aufgabe bekommen und wird während seines Rentner-Daseins den geplanten Audio/Video-Schnittplatz im Plenarsaal übernehmen, und das Live-Abmischen von Bands im Plenarsaal begleiten.
Darüber ist U901 besonders froh.
Außerdem begrüßt U901 ganz herzlich unsere neue Finanz- und Verwaltungskraft an Bord von Radio Unerhört Marburg: Ein dreifaches PING füpp für Paula!
Und nun bittet das Boot zum Tanz ins 20. LoopTape. Das Endlos-Band, das den Donnerstag schöner macht, wenn bei Radio Unerhört Marburg gerade keine Sendung läuft.
Tracks A-Z
Alice Under Water – Irgendwo da vorn
Barany – Dive In (Instrumental)
Bilderbuch -Softpower EP- Aber Airbags
Bombay Bicycle Club and The Staves – Road
Philip Bradatsch – Flüsse
Café Unterzucker – Geisterreiher
Café Unterzucker – Tombola
Calexico – Attack El Robot, Attack
Calexico – Gueero Canelo
Camille – Hazey Jane II
Cee-Roo – Sound of Animals
Cyriak – Goose Nonsense
Dangers Of The Sea – Take Me To The Ocean
Deep Forest -remix- remix
Dexperia – Ocean Breath
Rettward von Doernberg – Night Drive (Long Version, no Vocals)
Die Dorks -Der Arsch auf deinem Plattenteller- Der Producer hat gesagt wir brauchen ein Instrumentalintro
Dry White Bones – Hippocandy
Earth Kiss and Fire – I was made for Boogie Wonderland
Johaness Gilther – Subcarpathia (Original Mix)
Phillip Gross -Katzenmusik- Surf Bears
Guitamar – Selva negra
David Harrow – In My Head (Inside My Head Mix)
DJ Highlanders – Nihon-Gunbatsu (2023 Remastered)
hikE – doubleworld rat(2014 tr-b-boost)
Inezona – Sea Soul
Karmatuerji – Libera-Me
Kinobe – Lost In Time
Manfred Groove – Und der Wettermann
MC 900 Ft Jesus – Buried at Sea
Miss Melera – Fearless
Menotti HiFi – Contemporary Focus
Menotti HiFi – Mahjong
Minelli x R3hab – Deep Sea
Ministry of Sound -Aquanuts- Deep Sea
Mint Mind – Glow
Missfits – Die Breakdown Tanzmusik (völlig sinnlos)
Off Lights – Man Or Machine
Alan Parsons Project – The Turn of a friendly Card pt.1
Phantom Head – Too Blunt
Phonolab feat. Bill Laswell – Where do Comets come From
Scotch Water – Hit The Ground
Sebbass – Robots control my mind
Squid – Siphon Song
Squid – Swing (In A Dream)
TK KIM -Intrication- Respire
Besinnliche, jahreszeitgemäße Einsprengsel, gesprochen von der beunruhigendsten Stimme bei Radio Unerhört Marburg überhaupt:
Das Lehrzeichen (ein modernes Möhrchen)
GODD
Nikolaus
Sti(hi)lle Nacht
Freitag
Rodgau Monotones – Bad Orb, Bad Orb (New York, New York)
Middle of the Road – Chirpy Chirpy Cheep Cheep
Juli – Fahrrad
Sion Hill – Fuel Kids
Paramore – Hard Times
Kaya Laß – Kannst Du Mich Hören?
Felix Jaehn – Love On Myself (feat. Calum Scott)
Ennio Morricone – My Name Is Nobody
Maria Reiser – O'gricht is
Hot Butter – Popcorn
Georgie Fame & Alan Price – Rosetta
Jodok Cello – Shape of You (Cello Version)
Passenger – Staring At the Stars
Sheb Wooley – The Purple People Eater
Jan Böhmermann – Warum hört der Fahrradweg einfach hier auf?
Red Hot Chilli Pipers – We Will Rock You,Eye of the Tiger,The Clumsy Lover (Medley)
Lions Head – When I Wake Up
ZZ Top – Tush
Fats Domino – I'm Walking
Rodgau Monotones – Ei gude wie
The Baseballs – Kids In America
Cliff Richard & The Shadows – Summer Holiday
Okay – Okay!
Robbie Williams & Olly Murs – I Wan'na Be Like You
Torfrock – Sauwetter Kackhimmel Blues
WALK THE MOON – Shut Up and Dance
Jimmy Eat World – The Middle
Die Prinzen – Mann im Mond (Radio-Version)
Caramba – Eine Feine
Ryan Sheridan – The Dreamer
Spike Jones – Black Bottom
Diplo & Blanco Brown – Do Si Do
Barrelhouse Jazzband – Let It Be (with Joan Faulkner)
Louis Armstrong – Skokiaan
Chris Barber – At The Jazz Band Ball
Oimara – Bierle in da Sun (Oimara Mit Band)
André Rieu & His Johann Strauss Orchestra – Ouvertüre "Wilhelm Tell"
Barclay James Harvest – Rock 'n' Roll Star (Early Mix)
Electric Light Orchestra – Roll Over Beethoven
Berry Lipman – Action Shuffle
Dana Countryman & Jean-Jacques Perrey – Chicken On the Rocks
Terry Jacks – Seasons in the Sun
Chris Barber's Jazz Band – Ice Cream
The Sweet – Wig Wam Bam
Edmundo Ros – Melodie D'amour
Big Sandy and His Fly-Rite Boys – Don't Sweetheart Me
Bill Haley And His Comets – Rock Around The Clock
Chuck Berry – Johnny B. Goode
Elvis Presley – Return To Sender?
Radio Marburg
Wise Guys – Deutsche Bahn
Zusätzliche Weihnachtsplaylist:
Spike Jones – All I Want For Christmas [Is My Two Front Teeth] Frank Sinatra – Let It Snow! Let It Snow! Let It Snow!
Kaya Lafl – Nordlichter (Weihnachtsversion)
Wolfgang Petry – Eine Muh, Eine M‰h
Elvis Presley – White Christmas
AndrÈ Rieu & His Johann Strauss Orchestra – Jingle Bell Rock
Jona Lewie – Stop The Cavalry
AC, DC – Mistress For Christmas
Alexander O'Neal – The Christmas Song (Chestnuts Roasting On An Open Fire)
Alex The Astronaut – Christmas In July
Nena – Lasst Uns Froh Und Munter Sein
AndrÈ Rieu – Koschat: Schneewalzer
Nat "King" Cole – Deck the Hall
Spike Jones – Jingle Bells
AndrÈ Rieu & His Johann Strauss Orchestra – Petersburger Schlittenfahrt
Eartha Kitt – Santa Baby
Bing Crosby – Rudolph the Red Nose Reindeer
Ella Fitzgerald – Santa Claus Is Coming To Town
Harry Belafonte – Mary's Boy Child
Chuck Berry – Merry Christmas Baby
Perry Como – The Christmas Symphony
Bing Crosby & Rosemary Clooney – Silver Bells
Dean Martin – The Christmas Blues
Peggy Lee – Santa Claus Is Coming to Town
Frank Sinatra – Light a Candle in the Chapel
Rosemary Clooney – Suzy Snowflake
Bing Crosby & The Andrews Sisters – Poppa Santa Claus
The Platters – I Saw My Mummy Kissing Santa Claus
Frank Sinatra – Winter Wonderland
Louis Armstrong – Zat You Santa Claus?
Doris Day – Ol' Saint Nicholas
Spike Jones – I Dream of Brownie With the Light Blue Jeans
Doris Day – Here Comes Santa Claus
Bing Crosby & The Andrews Sisters – Jingle Bells
Bing Crosby – Mele Kalikimaka (Hawaiian Christmas Song)
Nat "King" Cole – All I Want for Christmas Is My Two Front Teeth
Brenda Lee – Rocking Around the Christmas Tree
Chuck Berry – Run Rodolph Run
Lionel Hampton and His Orchestra – Boogie Woogie Santa Claus
Elvis Presley – Santa Bring My Baby Back
AlexZavesa – Happy Christmas
Kevin MacLeod – Dance of the Sugar Plum Fairy
Fatblueman – Fat Blue Christmas Swing Medley
Hilary Duff – Sleigh ride (Navidad)
Kerstin Pfau & Andreas Heinzl – Weihnachten am Main
Lords of the Trident – Slutty Santa
Max Raabe – Der perfekte Weihnachtsmoment
Maya SolovÈy – Good King Wenscesles
Schrottkopp – Suesser die glocken
Seth Boyer – Christmas Socks
Samstag
Derzeit wird dieses Endlosband überarbeitet
Sonntag
Pink Industry – Walk Away
AG Geige – Astronauten
Elgart, Larry – Beyond Gravity
Cluster – Lerandis
The Slits – Love und Romance
The Young Gods – Lucidogen
Cluster & Eno – Oil
Roger Bunn – Road to the Sun
Cleaners From Venus – Rose Of The Lanes
Luca Stricagnoli – Thunderstruck
Ken Nordine – Windshield Wipers
Ennio Morricone – Escalation
Exo Neutrino – Der Weltraum
Orbital – Transient
Spirit – Fresh Garbage / 1968 Stereo Album 'Spirit'
Public Nuisance – Magical Music Box
Au Pairs – We're So Cool
Au Pairs – Love Song
Public Nuisance – Strawberry Man
Spirit – Uncle Jack / 1968 Stereo Album 'Spirit'
Public Nuisance – Ecstasy
Spirit – Mechanical World / 1968 Stereo Album 'Spirit'
Au Pairs – Set Up
Public Nuisance – Love Is A Feeling
Au Pairs – Repetition
Spirit – Taurus / 1968 Stereo Album 'Spirit'
Spirit – Girl In Your Eye / 1968 Stereo Album 'Spirit'
Au Pairs – Headache (for Michelle)
Public Nuisance – Holy Man
Au Pairs – Come Again
Public Nuisance – Gotta Survive
Spirit – Straight Arrow / 1968 Stereo Album 'Spirit'
Au Pairs – Armagh
Public Nuisance – Small Faces
Spirit – Topanga Windows / 1968 Stereo Album 'Spirit'
Spirit – Gramophone Man / 1968 Stereo Album 'Spirit'
Public Nuisance – Sabor Thing
Au Pairs – Unfinished Business
Au Pairs – Dear John
Public Nuisance – I Am Going
Spirit – Water Woman / 1968 Stereo Album 'Spirit'
Public Nuisance – Evolution Revolution
Au Pairs – It's Obvious
Spirit – The Great Canyon Fire In General / 1968 Stereo Album 'Spirit'
Public Nuisance – 7 Or 10
Spirit – Elijah / 1968 Stereo Album 'Spirit'
Spirit – I Got A Line On You / 1968 Stereo Album 'The Family That Plays Together'
Public Nuisance – Thoughts
Spirit – It Shall Be / 1968 Stereo Album 'The Family That Plays Together'
Moss & The Rocks – There She Goes
Moss & The Rocks – Please Come Back
Spirit – Poor Richard / 1968 Stereo Album 'The Family That Plays Together'
Spirit – Silky Sam / 1968 Stereo Album 'The Family That Plays Together'
Spirit – The Drunkard / 1968 Stereo Album 'The Family That Plays Together'
Spirit – Darlin' If / 1968 Stereo Album 'The Family That Plays Together'
Spirit – All The Same / 1968 Stereo Album 'The Family That Plays Together'
Spirit – Jewish / 1968 Stereo Album 'The Family That Plays Together'
Spirit – Dream Within A Dream / 1968 Stereo Album 'The Family That Plays Together'
Spirit – She Smiled / 1968 Stereo Album 'The Family That Plays Together'
Spirit – Aren't You Glad / 1968 Stereo Album 'The Family That Plays Together'
Pink Industry – Not Moving
Luca Stricagnoli – Braveheart
AG Geige – Der Dirigent
Cluster & Eno – Foreign Affairs
Roger Bunn – Jac Mool
Lustige Mutanten – La Vie (Hier Und Jetzt)
Cleaners From Venus – Little French Blue
Elgart, Larry – Lunar Sleep
Cluster – So Ney
The Young Gods – Supersonic
Ken Nordine – Tears
The Slits – Vindictive
Ennio Morricone – Dies Irae Psichedelico (Versione Lunga)
Exo Neutrino – When You're In Love Again
Orbital – Pants
Public Nuisance – America
Spirit – The Moving Van / 1968 Soundtrack 'The Model Shop'
Spirit – Mellow Fellow / 1968 Soundtrack 'The Model Shop'
Public Nuisance – Time Can't Wait
Public Nuisance – Darlin'
Spirit – Now Or Anywhere / 1968 Soundtrack 'The Model Shop'
Spirit – Fog / 1968 Soundtrack 'The Model Shop'
Public Nuisance – Now I Think
Public Nuisance – Daddy's Comin' Home
Spirit – Model Shop I / 1968 Soundtrack 'The Model Shop'
Public Nuisance – Pencraft Transcender
Public Nuisance – Katie Shiner
Spirit – Model Shop II (Clear) / 1968 Soundtrack 'The Model Shop'
Public Nuisance – Man From The Backwoods
Spirit – The Rehearsal Theme / 1968 Soundtrack 'The Model Shop'
Public Nuisance – One Man's Story
Spirit – Song For Lola / 1968 Soundtrack 'The Model Shop'
Spirit – Eventide / 1968 Soundtrack 'The Model Shop'
Public Nuisance – I'm Only Sleeping
Spirit – Coral / 1968 Soundtrack 'The Model Shop'
Public Nuisance – Hold On
Spirit – Aren't You Glad (Demo) / 1968 Soundtrack 'The Model Shop'
Public Nuisance – Going Nowhere
Spirit – Dark Eyed Woman / 1969 Album 'Clear'
Moss & The Rocks – There She Goes
Spirit – Apple Orchard / 1969 Album 'Clear'
Moss & The Rocks – Please Come Back
Spirit – So Little Time To Fly / 1969 Album 'Clear'
Spirit – Ground Hog / 1969 Album 'Clear'
Spirit – Cold Wind / 1969 Album 'Clear'
Spirit – Policeman's Ball / 1969 Album 'Clear'
Spirit – Ice / 1969 Album 'Clear'
Spirit – Give A Life, Take A Life / 1969 Album 'Clear'
Spirit – I'm Truckin' / 1969 Album 'Clear'
Spirit – Clear / 1969 Album 'Clear'
Spirit – Caught / 1969 Album 'Clear'
Spirit – New Dope In Town / 1969 Album 'Clear'
Pink Industry – Urban Jazz
Elgart, Larry – Asteroid Ballet
Luca Stricagnoli – Conquest of Paradise
AG Geige – Echostrand
Lustige Mutanten – Ein Guter Freund (Fast Ein Biflchen Leid)
Roger Bunn – Fantasy in Fiction
Cluster – Flutful
Cleaners From Venus – Isn't She The Biz
The Young Gods – Laisser couler (le son)
Cluster & Eno – Luftschloss
The Slits – New Town
Ken Nordine – Suede
Ennio Morricone – Collage N. 1
Exo Neutrino – Das Spielzeug
Orbital – Tunnel Vision
Pink Industry – Fear of Failure
Elgart, Larry – Airless Moon
The Young Gods – Astronomic
AG Geige – Fischleim
Roger Bunn – Jac Mool
Cleaners From Venus – Ministry Of Light
Luca Stricagnoli – Paradise
Cluster – Protrea
The Slits – Shoplifting
Lustige Mutanten – Spiel Ums Leben
Cluster & Eno – The Shade
Ken Nordine – Zebra
Ennio Morricone – Luca's Sound
Exo Neutrino – Perlen
Orbital – Lost
Pink Industry – Anyone's Fashion
Lustige Mutanten – Abschied
The Young Gods – Attends
Roger Bunn – Crystal Tunnel
AG Geige – Kosmonauten
Unbekannter Interpret – Titelnummer 5
Cluster & Eno – Old Land
Elgart, Larry – Primordial Matter
Cleaners From Venus – Queen Khartoum
Luca Stricagnoli – Seven Nation Army
Ken Nordine – Sidewalks
The Slits – So Tough
Cluster – Zircusile
Ennio Morricone – Senza Respiro
Exo Neutrino – Taiga Stone
Orbital – You Lot
Pink Industry – Situation
Cluster & Eno – Base & Apex
Ken Nordine – Breathing
Elgart, Larry – Gravitational Whirlpool
The Young Gods – In the Otherland
The Slits – Instant Hit
AG Geige – Ku®chensieb
Luca Stricagnoli – The Last Of The Mohicans
Cleaners From Venus – Third Summer Of Love
Roger Bunn – Three White Horses
Cluster – Xanesra
Ennio Morricone – Luca, Casa Londra
Exo Neutrino – So Ist Es
Orbital – Bath Time
07 – oh, du grune neune
Pink Industry – Two Cultures
Roger Bunn – Catatonia
Ken Nordine – Chimney
AG Geige – Das Mo®biusband-Zeychen & Wunder
The Slits – FM
Cluster & Eno – Light Arms
Cleaners From Venus – Liverpool Judy
Luca Stricagnoli – Madness
Cluster – Na Ernel
Lustige Mutanten – Pfui!
Elgart, Larry – Space Intoxication
The Young Gods – Stick Around
Ennio Morricone – Matrimonio
Exo Neutrino – Stink B‰r
Orbital – Acid Pants
Pink Industry – Extreme
Cluster & Eno – Broken Head
The Slits – Difficult Fun
AG Geige – Nachts unterwegs
Cluster – Lerandis
Ken Nordine – Queen
Roger Bunn – Suffering Wheel
Cleaners From Venus – Tatterdemalion
Elgart, Larry – The Purple Planet
The Young Gods – The Sound in Your Eyes
Luca Stricagnoli – Us
Ennio Morricone – Collage N. 2
Exo Neutrino – Cow Girls
Orbital – Easy Serv
09 – salzpflaumen
Pink Industry – The Raft
Cleaners From Venus – Garage Flowers
Roger Bunn – Guido the Magician
The Slits – In the Beginning
Cluster – Malturi Sa
AG Geige – Nasenwalzer
Ken Nordine – Nothing
Luca Stricagnoli – Starlight
Cluster & Eno – The Belldog
The Young Gods – Toi du monde
Ennio Morricone – Carillon Erotico
Exo Neutrino – Drei-K‰se-Hoch-Lied
Orbital – One Perfect Sunrise
Pink Industry – This is the Place
Ken Nordine – Apple Cider
Cleaners From Venus – Billy Liar
Cluster – Diagon
The Slits – Earthbeat / Wedding Song
Lustige Mutanten – Ein Biflchen
The Young Gods – Love 2.7
Roger Bunn – Powis Square Child
AG Geige – Ruth
Luca Stricagnoli – The Future
Cluster & Eno – Tzima N'arki
Ennio Morricone – Primo Rito
Exo Neutrino – Allein
Pink Industry – The Only One
Lustige Mutanten – Auch
Ken Nordine – Bathtub
Cluster – Gissander
Roger Bunn – Old Maid Prudence
Cleaners From Venus – Rusty River
AG Geige – Wir Lebenden-Teufel Trompke
Ennio Morricone – Secondo Rito
Exo Neutrino – Alien
Pink Industry – Time for Change
Roger Bunn – Humble Chortle
Cleaners From Venus – Lazy Elaine
Ken Nordine – When You're Born
Cluster – Ymstrob
Ennio Morricone – Funerale Nero
Exo Neutrino – Elegie
Cluster – Albtrec Com
Cleaners From Venus – Denmark Street
Roger Bunn – Jason's Ennui
Lustige Mutanten – Kurios & Lustig
Ken Nordine – Piccolos
Ennio Morricone – Escalation (#2)
Roger Bunn – 110∞ East + 107∞ North
Ken Nordine – Knee
Lustige Mutanten – Muzak Macht Hirn Tot (Outtake)
Cleaners From Venus – My Young Mum
Cluster – Stenthin
Ennio Morricone – Secondo Rito (#2)
Roger Bunn – A Weekend in Mandraxia
Lustige Mutanten – Bodensee (Outtake)
Cluster – Curvtum
Cleaners From Venus – Glammy Little Christmas
Ken Nordine – Pea
Ennio Morricone – Escalation (Shake)
Cluster – Formalt
Ken Nordine – Great
Roger Bunn – Life Is a Circus
Ennio Morricone – Funerale Nero (#2)
Lustige Mutanten – Bist Du Sicher, Dass Du Lebst? (Live Im Studio)
Ken Nordine – Eyelashes
Roger Bunn – Falling Ships
Cluster – Imtrerion
Ennio Morricone – Escalation (#3)
Ken Nordine – Clock
Roger Bunn – In the Future
Lustige Mutanten – Uberwacht (Live Im Studio)
Ken Nordine – Ear
Lustige Mutanten – Farbenfroh Stripped (pre-LM)
Roger Bunn – Lin-da's Jukebox
Lustige Mutanten – Fliegen 1 (pre-LM)
Ken Nordine – Ping Pong
Roger Bunn – You and I
Ken Nordine – Freckless
Lustige Mutanten – Heyhey Chacha (pre-LM)
Roger Bunn – In Love with You Babe
Ken Nordine – Cellophane
Roger Bunn – Up for Grabs
Lustige Mutanten – Wellenbrecher (pre-LM)
Lustige Mutanten – Drauf Gepfiffen (Live Im Studio)
Ken Nordine – Dream
Ken Nordine – Gabardine
Lustige Mutanten – Paady (post-LM)
Lustige Mutanten – How Do You Feelin' Blue? (By Irving Rain & Generator, pre-LM, 1974)
Ken Nordine – Planet
Lustige Mutanten – Farbenfroh Bloated (pre-LM)
Ken Nordine – Meat Balls
Lustige Mutanten – Konstrukt 11: Early Mutant Mourning
Ken Nordine – Sky
Ken Nordine – Envelope
Lustige Mutanten – Fliegen 2 (pre-LM)
Lustige Mutanten – Konstrukt 17: Life Is A Cumbersome Machine
Ken Nordine – Roller Skate
Ken Nordine – Blotter
Lustige Mutanten – Muzak Macht Hirn Tot (Gef‰hrliche Klons-Urversion)
Lustige Mutanten – Bodensee (Demo)
Ken Nordine – Moth
Lustige Mutanten – Ein Guter Freund (Demo)
Ken Nordine – Indians
Ken Nordine – Lampshades
Lustige Mutanten – Spiel Ums Leben (Early Studio Mix)
Ken Nordine – Cigars
Lustige Mutanten – Muzak Macht Hirn Tot (Early Studio Mix)
Lustige Mutanten – Bodensee (Demo Mit Echo)
Different Klons – Oh Mutta
Niobe – Prolog
Niobe – Out of Limbo
Niobe – Good Old Owl
Niobe – Black It Out
Niobe – Tic Tac
Niobe – Always Pointing Skywards
Niobe – Virgin de Guadalupe
Niobe – Nachtsendung
Niobe – Little Things of Frenzy
Niobe – Sanoukiki
Niobe – [hidden track] Steve Miller Band, The – Sugar Babe
Steve Miller Band, The – Mary Lou
Steve Miller Band, The – Shu Ba Da Du Ma Ma Ma Ma
Steve Miller Band, The – Your Cash Aint Nothin But Tras
Steve Miller Band, The – The Joker
Steve Miller Band, The – The Lovin Cup
Steve Miller Band, The – Come On In My Kitchen
Steve Miller Band, The – Evil
Steve Miller Band, The – Something To Believe In